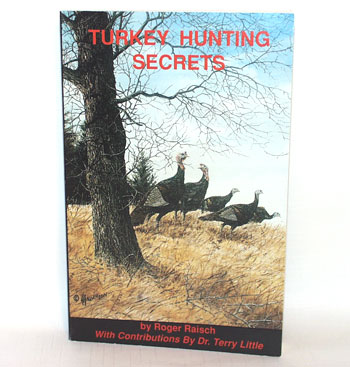 NOT AVAILABLE IN STORES
Read about how to learn all you can about turkey hunting
The Turkey Pro Sez: "Dr. Terry Little, widely recognized as one of the country's leading wild turkey biologists, and I, teamed up to write Turkey Hunting Secrets, which has become one of the most popular books ever written on turkey hunting.
Our successful Turkey Hunting Secrets seminars across the country inspired us to write it. I can proudly say that it's the definitive source of proven advanced tactics that help hunters to become consistently successful. You can request an autographed copy of the book at the time of your order.

If you want to outwit turkeys all the time, bag a bird every year, and become a Master Turkey Hunter, practice the SECRETS revealed in this book....you won't be
disappointed ... Guaranteed!"disappointed ... Guaranteed!""

Turkey Hunting Secrets
240 page Book
by Roger Raisch with contributions by
Dr. Terry Little

The Serious Turkey Hunter's Guide to Advanced Gun Hunting Tactics &
Bow Hunting Success
240 pages--soft cover
17 chapters of Solid, Advanced Turkey Hunting Tactics

Fully illustrated with over 100
Photos and Illustrations, including Construction Blueprints for the Pro's Special Blind

Spring, Fall and Winter Hunting no-nonsense SECRETS, Tips, & Tactics
MUST Reading for serious hunters!
SOLD OUT -
Call 877.267.3877 for Used Books