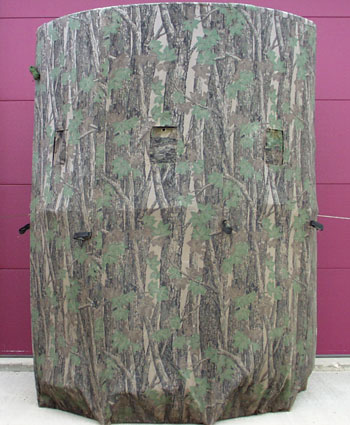 constructed blind - above plans - below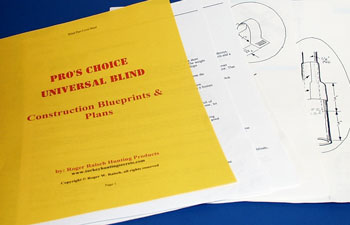 Read about the advantages of a ground blind
Review a comparable blind you don't have to build!
Review a short version of a blind you don't have to build!
The Turkey Pro Sez: "Years ago I discovered the advantages of a ground blind for both turkey and deer hunting, and for photography. I have refined the design into what you see here. Without a full coverage blind, the bow hunter has almost no chance to bag turkeys consistently. And...you won't believe how well a blind like this will contain your body odor when deer, antelope, or elk hunting. With a clean body, use of cover scent, and keeping the shooting windows closed until you're ready for a shot, the critters with the super nose will normally not detect you, even when they are within 20 yards. With these plans, and the help of someone who knows how to operate a sewing machine, you will be able to build your custom camo blind to fit your hunting needs with simple hand tools."


Pro's Choice
Universal Blind
Construction Blueprints
by Roger Raisch Hunting Products

Build the Pro's Unique Ground Blind With These Easy-To-Follow Step-By-Step Instructions
Easy-to-follow step-by-step Instructions, including Materials List, Blueprints, and Illustrations

Specially designed and used by The Turkey Pro for over 20 years for bow and gun hunting when total concealment and scent control is required

Designed for hunting turkey, deer, elk, antelope, etc. and for photography

Accommodates up to 3 people

Sets up in less than 3 minutes
90" high; 66" diameter
Shape: round with roof
Weight: about 9-14 pounds depending on material used
8 customizable windows with covering flaps
Frame built with replaceable plastic CPVC pipes
Zippered door and carrying bag

Save $$--this blind can be built for about $135.00

Requires 22 yards of 45" wide fabric

Plans only, blind not included
Price: $14.99
ORDER