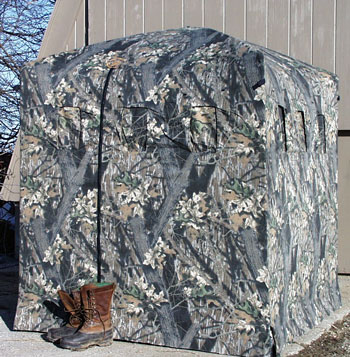 Read about the advantages of a ground blind
Review a shorter, version of this blind
Review blueprints to build your own blind

The Turkey Pro Sez: "Years ago, well ahead of most hunters, I discovered the advantages of a ground blind for both turkey and deer hunting with gun or bow, and for photography. For a few years in fact, I manufactured and sold a specialty blind of my own design. Despite all the blinds currently on the market, only one has the features I require in a high-quality blind--a Multiple Use Ground Blind by Oak Hollow Outdoors. It is the only blind I've found that meets my high standards for functionality, quality, features, and effectiveness. It's remarkably similar to my own design, but with several important improvements. This model is extra tall for bow hunters (7 1/2 feet) who want to shoot standing up and for tall individuals. It also allows hunters to install the shooting windows at just the right height for any situation.
Without a full coverage blind, the bow hunter has almost no chance to bag turkeys consistently. And...you won't believe how well a blind like this will contain your body odor when deer, antelope, or elk hunting. With a clean body, use of cover scent, and keeping the shooting windows closed until you're ready for a shot, the critters with the super nose will normally not detect you, even when they are within 20 yards.
A Multiple Use Ground Blind is great for taking people hunting who can't sit still....and it's great at keeping the cold, rain, and wind away, thus improving your ability to endure the long wait for turkeys or deer. Until you use a blind like this, you simply won't believe how well it works and how close game will come. In my blinds, my average shot at gobblers with bow and arrow is about 15 yards. Even with the great Mossy Oak Break-Up pattern, I still recommend placing brush or tree limbs around the blind for further camo and to break the outline of the blind.
Set up a Multiple Use Ground Blind in a good spring strut zone and I'll promise you excellent results and plenty of action!"
Note: above photo shows windows cut in blind. Your blind will come without any windows cut.
Custom Multiple Use
Ground Blind
by Oak Hollow Outdoors

Custom Designed Blind For
Turkey & Deer Hunters
Who Demand The Best
(7 1/2' Tall Blind With
Customizable Windows)
For hunters who want additional height in a blind to accommodate shooting a bow standing up and want to custom-design their own shooting windows

Designed for consistent success with turkeys and for gun hunters who want the advantages of a full coverage blind

This is the same design as the regular Multiple Use Blind except it is taller and requires the hunter to cut and install his own shooting windows

Custom-designed, sewn, and fitted for quality

Designed for hunting a variety turkeys, deer, elk, antelope, etc. and for photography

With windows closed, human scents are controlled

Fast set up in 2 minutes, using quick attach poles

Free standing--no ropes or tie-down cords required
Quiet--7 ounce Cotton Twill Material in Mossy Oak Break-Up Camo

Dimensions: 5' square,
7 1/2' at the peak, 6 1/2' sides

Peaked roof

Full length heavy-duty zipper door entrance

Weight: 15 pounds. Carrying strap included
Accommodates up to 3 hunters

Boots not included!

SOLD OUT
please got to
Blinds Department