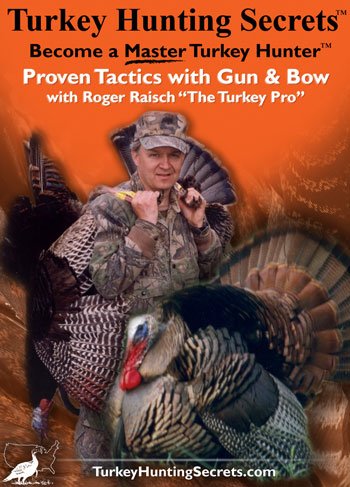 NOT AVAILABLE IN STORES
Holiday Sale Price: $9.99
ORDER
Listen to excerpts (3 1/4 minute)
Learn how to use this tape to your advantage
The Turkey Pro Sez: "You can never learn too much about wild turkeys, their behavior, and successful tactics for hunting them.

. Designed for all experience levels of hunters, we show you our SECRETS of consistently successful spring turkey hunting. It's divided into 27 chapters for easy and fast learning, but most importantly, effective learning. Navigation is simple, so you can repeat any chapter at the click of a button. Learn our tips, tricks, and Secrets, which have taken us over 70 years of combined hunting experience to perfect.

If you want to outwit turkeys all the time, bag a bird every year, and become a Master Turkey Hunter, use the SECRETS revealed in this DVD. This is a fast-track learning system, Guaranteed to make you a professionally-trained pro turkey hunter !

Turkey Hunting Secrets DVD . . . Become A
Master Turkey Hunter
Proven Tactics with Gun & Bow
by Roger Raisch
with contributions from
Dr. Terry Little

Autographed by
Roger Raisch "The Turkey Pro"

Will Enlighten, Entertain, and Educate
You on the Finer Points of Spring Gobbler Hunting
Over two hours of no-nonsense Advanced SECRETS designed to make you consistently successful every year.

Convenient viewing and learning on your PC or DVD player.

27 easy-to-navigate chapters designed for effective, fast, and easy learning.

Includes Plenty of Secrets, even for experienced turkey hunters.

Learn these Secrets:

~Turkey Calling Secrets
~Learn to predict turkey behavior
~How to take tough, smart birds
~Overcoming a turkey's senses
~How to use a mouth call
~How to choose & operate calls
~Gun, ammo & patterning tips
~How to find gobblers at any time
~How to roost gobblers every day
~Setting up correctly
~Calling roosted gobblers
~Calling gobblers on the ground
~Hung up gobbler tactics
~Henned-up gobbler Secrets
~Use of portable & natural blinds
~How to avoid mistakes
~Proven bowhunting Secrets
~Desperation tactics
~How to recover wounded turkeys
Much, much more!
regular price: $24.99
Introductory Price: $19.99

Holiday Sale Price: $9.99
ORDER