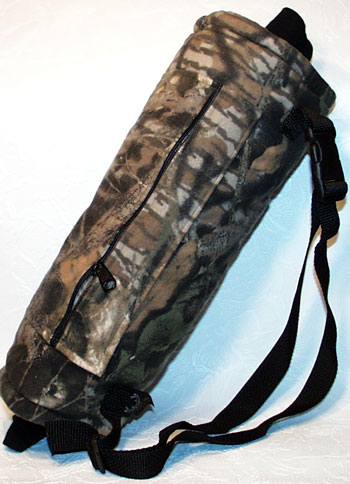 The Turkey Pro Sez: "When you're planning a cold day in the out-of-doors, whether it's hunting, fishing, or watching a football game, keep your hands warm with this Handwarmer by Sportsman's Comfort Products. This baby is super warm and just like the one grandma used to have... except yours will have a strap and comes in a pretty camo color!
Bow hunters and gun hunters alike will appreciate the waist strap that stays in place against your body when you quietly withdraw your hand for a shot at your trophy. I don't leave home without a Handwarmer when I expect super cold weather".

Handwarmer
by Sportsman's Comfort Products

The Ultimate Handwarmer
Super insulated with Hollofil 808 and fleece lining.

Includes outer zippered pocket measuring 8" X 10".

Adjustable 42" nylon waist strap.

Dimensions: 15" long; 8" wide..
Price: $21.99
ORDER