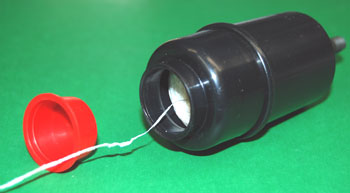 photo above is same for Model 2500 except for the label.
Bracket not included and ... not needed.
Use electrical tape to mount bracket
at your choice location!
_________________
Below ... suggested mounting location on crossbow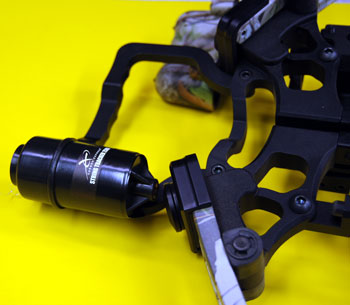 Read about the necessity of using a tracking unit
Read about recovering your bird
The Turkey Pro Sez: "I have trusted this inexpensive Professional Game Tracking Unit to help me retrieve wounded turkeys for many years. You will find that a turkey is a tough animal to drop in its tracks unless a vital hit is made.

Since the vital area is small, you won't always put an arrow where you want it to be. Even when using an expanding mechanical broadhead, a wounded bird will run or fly away usually leaving no sign to follow. With the Professional Game Tracking Unit, you simply follow the line to the bird.

I have to admit that it works nearly all of the time, but not always. Sometimes a weaker line will break, particularly if your arrow didn't do much damage. A wounded turkey struggles against the line and it can break.

To get a quick second shot at a gobbler if you miss, you should tape a second Professional Game Tracking Unit to the first, tying its line to a second arrow in your quiver. I have often used this method to bag a gobbler that I missed with the first arrow."

String Tracker 2500
by Eastman Outdoors ( formerly GameTracker )
Professional Game Tracking Unit
for All Bows and
"Cross-Bow Friendly"
Includes one spool of 17-pound test highly visible line
( 2,500 feet )

Large line-exit opening delivers flat arrow trajectory to 30 yards when installed and used properly

Line attaches to arrow with line attachment washers or simply tie line to arrow behind broadhead

Includes mounting stud for mounting unit in stabilizer hole of bow

Make certain to take several practice shots after installing new spool of line

Remember to buy
EXTRA spools of 17# line
Single White
Tracking Unit
Price: $19.99
ORDER