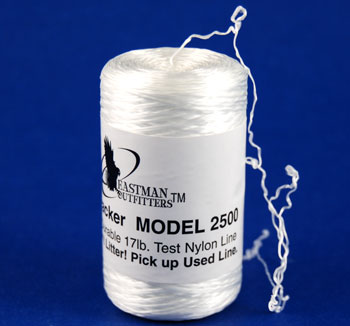 Above - Replacement Spool is for the tracking units ... Eastman Model 2500 and GameTracker Model 3000

Read about the necessity of using a tracking unit
Read about recovering your bird
The Turkey Pro Sez: "I have trusted the this inexpensive Professional Game Tracking Unit to help me retrieve wounded turkeys for many years. I recommend that you always use a string tracking device like this because a wounded turkey is very difficult to recover because it does not leave a good blood trail if it runs away, and if it flies away, you usually have no idea where to look to recover the bird. A tracking unit will almost always provide an effective way to recover the bird, whether the arrow stays in the turkey or it passes through."

17# Replacement Spool
For Professional
Game Tracking Unit
by THS.com/Eastman Outdoors
( formerly GameTracker )

Heaviest Line Available
2,500 feet of highly visible 17# nylon line

Designed for Eastman 2500, Carbon Express 2500 and GameTracker 3000 Professional Game Tracking Unit

Make certain to take several practice shots after installing new spool of line