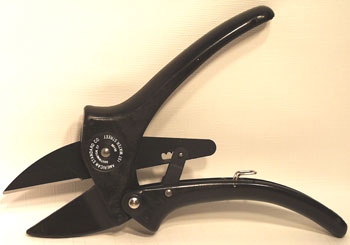 Read about how to use these when setting up
The Turkey Pro Sez: "When I first saw these babies about 15 years ago, I bought two pair! I won't go to the woods without them in my pack. They are simply the best, lightest, and most powerful pruners on the market.
These are the Originals...not the counterfeits.

They're so simple and easy to use, not to mention SHARP, you'll be done cutting the brush around your set up in a flash. Although they are advertised as cutting limbs up to 3/4", I routinely cut brush slightly over 1" in diameter. I've never sharpened them or had them fail in 15 years of rugged use. Buy an extra pair for around the house!"

Florian Ratchet-Cut Pruners
by American Standard Company

The Original Ratchet-Cut
Often Imitated-Never Duplicated
Powerful Ratchet-Cut action
cuts branches up to 3/4" with remarkable ease

High carbon austempered steel with Teflon Coated Blade
For Information Reference ONLY