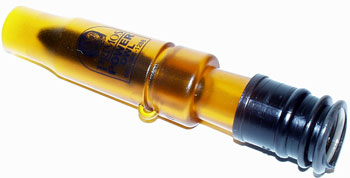 Listen to 14 seconds of owl hooting

Read about how to make turkeys gobble
The Turkey Pro Sez: "Every turkey hunter needs a good owl hooter in his bag of tricks. This NEW and improved compact and popular Power Owl Call by Primos Hunting Calls produces extra-loud or soft hoots which mimics a barred owl's hooting, the bread-and-butter locator sound of all turkey hunters. Economically priced, you'll get plenty of life, value and variability of sound from this call"
Power Owl Call
by Primos Hunting Calls

Extra-Loud, Reed-Type Call
Loud, Reed-Type Owl Call that creates a perfect who-cooks-for-you, who-cooks-for-you-all cadence of a barred owl, which tortures toms into gobbling in response so you know where they are.

Excellent gobbler locator call for anytime of the day.
Discontinued
by Manufacturer