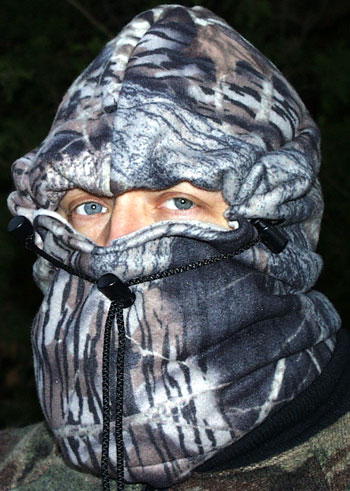 Learn about face and hands concealment
The Turkey Pro Sez: "Keeping your head and neck warm in cold weather hunting is often a big problem. Most of a person's heat is lost from the head and neck. When these parts of your body are cold, the rest of your body is too, and you won't be able to stay on stand for very long without getting down to move around and warm up.
With an Ultimate Hood from Sportsman's Comfort Products you won't be cold again while hunting, fishing, watching a football game or any other outside cold weather activity.
You'll appreciate the extra long length of the hood and the adjustable opening for your eyes, nose and mouth. The hood can be left more open for warmer days, and shut up so just your eyes show for super cold days.
I don't leave home without my Ultimate Hood when I expect cold weather conditions."

Ultimate Hood
by Sportsman's Comfort Products

An Incredible Head & Neck Warmer For Cold Weather Hunting/Fishing
Economically-priced, super warm, comfortable hood that provides full coverage and adjustability.

Conforms to face or glasses for comfortable fit, superb concealment and good peripheral vision.

Adjustable draw strings for tightening hood in the back or front.

Extra long length to cover entire neck area.

Soft, quiet Polar Fleece material.

Dimensions: 24" long, 24" in circumference.

One size fits all.

Advantage Camo.
Price: $26.99
ORDER