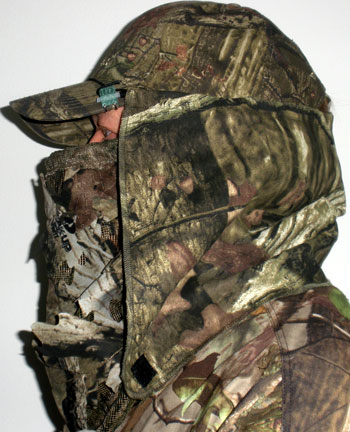 No-Touch Head Concealment System
Shown in Leafy Polyester
No-Touch Head Concealment Systems

Mask & Hoodie

Mask & Hoodie

Mask & Hoodie




Leafy Polyester


Realtree Xtra




Lightweight Netting


Mossy Oak Break-Up



Cotton


Mossy Oak Break-Up
regular price: $39.99
Price: $ 19.99
ORDER
regular price: $39.99
Price: $ 19.99
ORDER
regular price: $39.99
Price: $ 19.99
ORDER
Learn about face and hands concealment
The Turkey Pro Sez: "This is the best head concealment system on the market....PERIOD!. The design of the facemask allows it to stay away from the face, but still provides the total concealment needed to keep a gobbler or other sharp eyed game from noticing your bright-colored face and skin. It's fully adjustable because of the high-quality wires that attach to "Bunker Clips" which are attached to the bill of your cap. You can configure the facemask to the shape of your nose, face, and around your ears to conceal as much or as little as you want, with the facemask not touching your face. The System also includes a "hoodie" which conceals the back of your head and neck and neatly attaches to the "Bunker Clips" as well.
Over the years I have tried almost every head concealment system available. Most of the facemasks and headnets are too tight, too uncomfortable, too hot, too cold, too bulky, and usually cause some discomfort and pain on the nose, face, or ears. Being uncomfortable is a sure way to start the mind thinking that you need to get up and move around, or at least make movements to constantly adjust your head net....all of which is not what you want to do when waiting motionless for game to approach. The Bunkerhead System won't let this happen as the facemask is designed to stay off your nose, face, and ears due to the built-in wires sewn in the facemask which are attached to the "Bunker Clips".
You will never become uncomfortable wearing this System. It's available in various materials for cooler or warmer weather. Keeping your head and neck warm in cold weather hunting is often a big problem. Most of a person's heat is lost from the head and neck. When these parts of your body are cold, the rest of your body is too, and you won't be able to stay on stand or on the ground very long without moving around to warm up. Also, in warm weather this System keeps you nice and cool, without anything touching your face.
With a BunkerHead Sysem you can't go wrong....it is the ultimate in head concealment. Superior workmanship is obvious in this USA made product....another good reason to buy it!"

BunkerHead No-Touch Facemask System
by BunkerHead

NEW An Incredibly Innovative, Extremely Comfortable and Adjustable Head Concealment System
Facemask is designed to be attached to any baseball style cap with "Bunker Clips" with rubber coated wire sewn into the facemask.

Designed so facemask is not touching the nose, face, or ears for long-wearing comfort. Fully adjustable to any configuration needed - narrow eye slits - perfect for glasses wearers - pull the sides in tight or more loosely, whatever you want.

System includes two "Bunker Clips", face mask, and "hoodie", which conceals the back of the head and neck and attaches to the "Bunker Clips" with rubber coated wires

Complete head concealment. Provides excellent peripheral vision.

Quick and easy to set up and use.

Extra long length to cover entire neck and back of head areas.

Available in Realtree Xtra Leafy Polyester, Mossy Oak Breakup LIghtweight Netting, and Mossy Oak Breakup Cotton.

Elastic between the "Bunker Clips" rides across the top of cap's bill providing a secure place for sun glasses, 3-D Sneaky Leaves or natural vegetation, small flashlight, or other objects.

One size fits all. Facemask can be used with or without "hoodie".

Made in U.S.A with highest quality construction, design, sewing, and materials.
Regular Price: $39.99
Introductory Price: $19.99