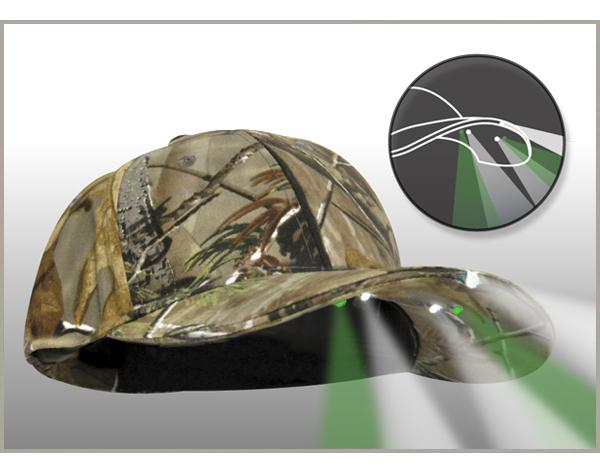 Other Caps

2 White LED
Blaze Orange Cap Light


regular price: $24.99
Sale Price: $19.99 ORDER
limited quantity


2-CAP Special
$29.99 ORDER
very limited quantity
3 White LED Mossy Oak Break-Up Cap Light

only 2 lights showing in image

regular price: $24.99
Sale Price:
$19.99 ORDER
very limited quantity

3 White LED Realtree AP
Cap Light


only 2 lights showing in image

regular price: $24.99
2-CAP Special
$29.99 ORDER
very limited quantity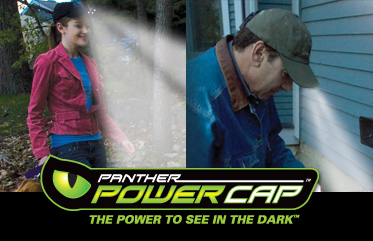 Cap Light -
2 Green / 3 White
LED Lights
by Panther Vision

The "Exclusive" 3-Way LED Lighting System for Hunters & Others Who Need Low Beam Green for night vision,
Low Beam White for up-close tasks Power Beam - using all 3 White LED's.

Premium 6-panel hat with sandwich trim, premium comfort sweatband and durable Velcro closure. One Size Fits Most. Realtree AP Gray

2 Green LED's concealed under the brim preserves your night vision and will last for 100,000+ hours. Green can not be seen by game animals.

3 Ultra Bright White LED's (2 concealed under the brim and 1 in the brim) will last for 100,000+ hours

Exclusive 3-way lighting technology lets YOU choose the light that is right for your specific needs.

Provides light up to 50 ft away and can be visible from over a mile.

Easy "on/off" switch concealed in the brim

4 CR-2032 Lithium coin cell batteries are concealed in the sweatband, provide up to 75 hours of continuous light and are easily replaceable.

Batteries included.

Limited lifetime warranty.
regular price: $29.99
Super Sale Price
( 5 LED Lights )
$22.99 each
SOLD OUT
The Turkey Pro Sez: "I believe this product is the "Ultimate" in a convenient, cost-effective, and effective hands-free lighting system for hunters, or for anyone else. Over the years, companies have developed dozens of hands free lights. Some are heavy, others fit awkwardly over the head or cap, while others have limited run time before replacing batteries. The clip-on lights are easily misplaced or lost, which is another problem.

A Panther Vision Cap Light eliminates the shortcomings of these other models. Assuming you never lose your cap, you will always have a powerful lighting system on your head. The LED lights have been carefully concealed in the brim of the cap, along with the on/off button, and the cap is as comfortable as any other cap you will wear. 30 hours of run time, plus powerful beams of light, make these caps foolproof to own and operate.
In addition to hunting applications, these caps are an excellent safety device for persons who walk, camp, fish, hike, work in dark places, during power outages, or anytime you need additional task lighting.
I especially like the new 5 LED PowerCap™ Lighted Hat from Panther Vision that combines 2 Green LED's and 3 Ultra Bright white LED's to provide the "ultimate hands free flashlight" while protecting your night vision!!

This hat looks just like every other premium quality ball cap, with one very important difference: When you need light, just click the switch hidden on the underside of the brim and you have instant Ultra Bright light from the LED's that are built into and under the brim!!

Turn the Low Beam White lights on when you want brilliant light for up-close tasks…

Turn the Low Beam Green lights on to protect your night vision when you are making your early morning approach to your gobbler's roost or to your treestand (the green lights will not spook game).

Turn the Power Beam lights on - using all 3 White LED's - when you want the most light possible.
There are so many uses for the PowerCap™ in and around the house as well as outdoors that you'll never want to be without it!!
We are offering the 2 LED caps in different cap colors, including a pink model for our female customers. A unique and great gift idea for anyone!"