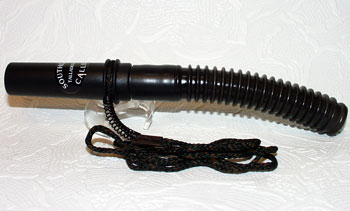 Listen to 10 seconds of dominant buck grunts
Listen to 9 seconds of buck grunts
Listen to 10 seconds of doe grunts
Listen to 8 seconds of fawn bleats

The Turkey Pro Sez: "The Grunt 'N Bleat Deer Call by Southland Game Calls is an economically-priced call that reproduces all of the sounds that deer make that are useful for hunting, from grunts to bleats.
It's simple to use and requires very little air. I like it because it produces a wide variety of volume levels and can be operated by exhaling or inhaling, whichever you prefer. From bleats to old buck grunts, a Grunt 'N Bleat does it all."
Grunt 'N Bleat Deer Call
by Southland Game Calls

An Economically Priced
Deer Call That Does It All
Adjustable "O" ring creates a wide range of calls--dominant buck, buck, and doe grunts, and fawn bleats.
Flexible volume-enhancing tube create deeper and louder rutting buck sounds and allows sound to be muffled also.

Volume of call is fully adjustable (loud to very soft) by controlling the amount of air inhaled or exhaled.
Price: $8.99
ORDER