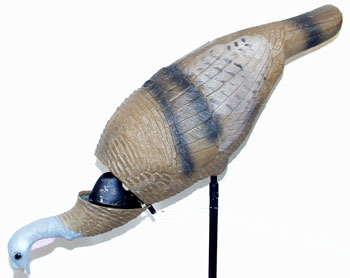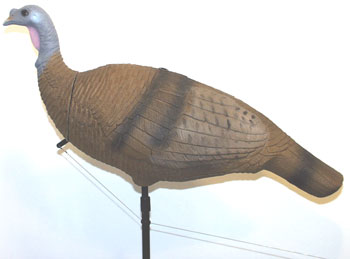 Learn more about movement decoys
Learn decoy tricks & how to use movement decoys safely
Learn decoy tricks for bow hunters
The Turkey Pro Sez: "Talk about the ultimate weapon! This Supreme Feeding Hot Hen Decoy from Delta Industries is just that and more. Why? Because it's the only movement decoy made that precisely imitates the actual body and head movements of a feeding hen turkey, and when combined with the highest-quality materials, sculpting, and paint job, is the most realistic looking and acting decoy....period. I know because I was previously employed at Delta Industries. I am personally familiar with the manufacturing processes and quality control of this product. Also, I know the competitive brands well.
Does it bring gobblers in? Yes. For example, last spring I had a gobbler hung up on the edge of a greened-up wheat field. I was set up in my blind on the opposite side, about 75 yards away. I had a spread of 6 hen decoys with one jake decoy and a Supreme Feeding Hot Hen in the open where he could see them. Despite my patient calling, and all those lovely looking Delta decoys, he wouldn't move. He stood there like a rock for about 15 minutes watching and strutting. When I finally activated the Supreme Feeding Hot Hen and made her peck the ground a couple of times, he IMMEDIATELY broke out of strut and walked over to the decoy spread within 10 yards of my blind. I bagged him with my camera.

I can recommend a Supreme Feeding Hot Hen above all other movement decoys for quality, and effectiveness for being able to lure in gobblers and for its ability to stand up to abusive treatment (I'm not easy on things)! With this baby, all you need to do is decide whether to roast or barbecue your gobbler...there's no question you'll get one!"
Safety Tip: Be very careful when using this product. Other hunters in the area will mistake this for the real thing, so when you know others are in the area, be super careful or don't activate movements until you think they have left the area.

Supreme Feeding
Hot Hen
Movement Turkey Decoy
by Delta Industries

Discontined by Manufacturer
For Information
Purpose Only
Decoy pivots on the stake, bends over, and then proceeds to extend its neck to peck the ground. Returns to upright position automatically

PERFECTLY imitates the movements of a hen turkey as she pecks the ground while feeding

Lures in stubborn, call-shy, hung-up gobblers

Easy and Foolproof to operate

Requires activating line (not included). Commercial fishing line works well for this
Life-sized--three dimensional

Made from New state-of-the-art, virtually indestructible material

Superior, molded feather detail, realistic colors, permanent bronze sheen paint

Partially collapsible

Weight: 2 pounds

2-piece plastic stake
Discontined by Manufacturer
For Information Purpose
Only