Above - Decoy Walker
Below - Delta Hot Hen mounted on Decoy Walker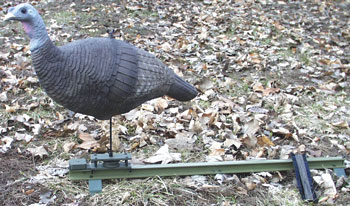 The Turkey Pro Sez: "Talk about awesome! This device, when combined with a realistic-looking decoy, is the ultimate in movement decoys. NEW for 2001, a Decoy Walker simulates a walking and feeding turkey, that gobblers find irresistible.
Gobblers are smarter than they were just a few years ago concerning decoys. When a decoy is not moving or is moving in an unnatural manner, some gobblers will be stand-offish and won't come into range. When a gobbler hangs up, out of range, wait until he is looking your way, then activate your Decoy Walker. Make the decoy move back and forth a time or two, and then stop and see what happens. Often, that is just the amount of natural movement to convince a gobbler that he is seeing the real thing and to get him moving into range. A Decoy Walker is simple to operate with gentle pulling and releasing of the activation line. A pulley is attached to the decoy rod which allows the decoy to "walk" back and forth along the length of the track, stop and turn up to 180 degrees anywhere on the track. With a few minutes of practice, your decoy will look so real it's scary.
There are no batteries or complex moving parts to worry about with a Decoy Walker...just a few minutes of practice learning how to manipulate your decoy so it looks and acts natural. You'll love it"
Decoy Walker
by True Huntin' Products

Make Your Decoy Come Alive!
Creates realistic movement of decoy, including "walking" back and forth and "turning 180 degrees" around!

Best used with lightweight, collapsible decoys, such as a Delta Hot Hen, Jake, or Stationary Feeding Hot Hen.

Decoy is controlled by pulling and releasing activation line. (25 yards of line included).

QUICK and EASY to Use:
Attach decoy to vertical rod, place rod into pulley mechanism, pull and release line to get decoy to walk back and forth, stop it anywhere on the track, make it turn and return down the track.

Track is 36" long and folds in half, making for easy transportation. Stakes are provided to hold track level on the ground. Sets up quickly.

Weight: 2 pounds.

Safety Tip: Only use this device in areas where other hunters WILL NOT BE....it is terribly realistic looking!

Hot Hen Decoy not included.


Discontinued Product ...
For Informational
Purpose Only