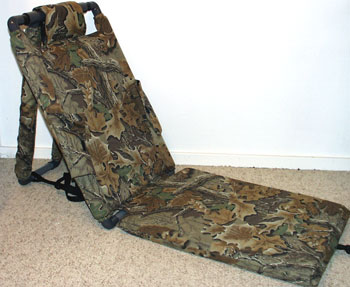 Read about how to use this product to bag more turkeys
The Turkey Pro Sez: "Don't you just hate it when you can't find the right type or size of tree to sit down against when you get ready to work a gobbler? With a Pro Guide Hunting Seat by Longbeard Industries, that problem is solved.

It will set up anywhere--against a tree or without one. And...it's so comfortable, I find myself falling asleep in it when the turkeys aren't cooperating.

In addition to turkey hunting, I use it for wildlife photography, dove hunting, taking naps around camp, and watching TV at home. A Pro Guide Hunting Seat is a versatile product with dozens of uses, both in the field and at home"
Pro Guide Hunting Seat
by Longbeard Industries

World's Most Comfortable Seat
Comfortable--will support any person

Fully padded back support and fully adjustable to the angle you choose

Padded head-rest

Double-barrier, moisture repelling, padded cushion

Carries like a backpack

Lightweight non-corrosive frame

Includes two 48 sq. inch pockets

Dimensions: Cushion(17" X 24"), Frame(19" X 28")

Weight: 8 pounds

Soft, quiet, Advantage Camo material