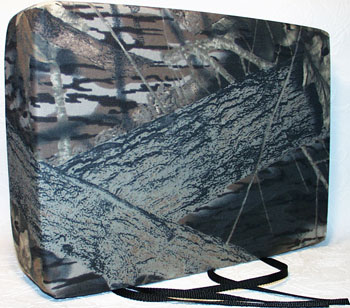 The Turkey Pro Sez: "My butt and legs begins to ache and lose sensation after I've being sitting in a tree or ladder stand for an hour or so. After I discovered a StandMate cushion by Sportsman's Comfort Products, that problem was solved.

Tie it to your stand and your butt will stay comfortable during the wait for game to appear. You won't encounter any numbness either.

You'll be impressed with the superb craftsmanship in this product...all materials are top-rate. The sewing and seams are outstanding. It's the perfect size too!
StandMate Treestand Cushion
by Sportsman's Comfort ProductsSportsman's Comfort Products


Specially Designed Support
Cushion for Treestand Hunters

Price: $29.99
ORDER
Comfortable support for long waits in a treestand.

Relieves butt and leg pain and cramps created when sitting on metal, wood, sling and web tree or ladder stand seats.

Designed by orthopedic physical therapists. Made in the U.S.A.

Attaches to tree or ladder stand with four nylon straps.

High density durable 95# open cell foam guaranteed to last and not "bottom out".
Dimensions: Cushion: (14" X 10" X 3") Straps: 11"

Lightweight...only 14 ounces.

Soft, quiet, True Timber Camo material. Removable, washable cover.
Price: $29.99
ORDER
Larger sized cushion than the StandMate is the
SeatMate