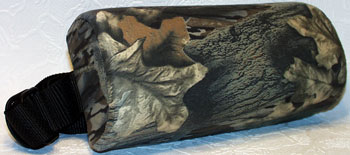 The Turkey Pro Sez: "I get lower back pain when I sit for long periods of time. With a BackMate by Sportsman's Comfort Products, that problem is solved.

This unique product relieves the pain in your lower and middle back making you a more comfortable, patient hunter...and a more successful one too!
You'll be impressed with the superb craftsmanship in this product...all materials are top-rate. The sewing and seams are outstanding.

In addition to hunting, I use it in my vehicle when riding or driving and in my office chair. A BackMate is a versatile, pain-control product with dozens of uses, both in the field and at home.
BackMate Cushion
by Sportsman's Comfort ProductsSportsman's Comfort Products

Specially Designed Low Back Support Cushion for Turkey/Deer Hunters
Price: $24.99
ORDER
Designed by orthopedic physical therapists. Made in U.S.A.

Wear around the waist or attach to a tree.

High density durable 95# open cell foam guaranteed to last and not "bottom out".
Includes two "D" rings on strap for secure tension.

Dimensions: Cushion: (10.5" X 4.5" X 3.5") Strap: 52"

Lightweight...only 6 ounces.

Soft, quiet, True Timber Camo material. Removable, washable cover.
Price: $24.99
ORDER