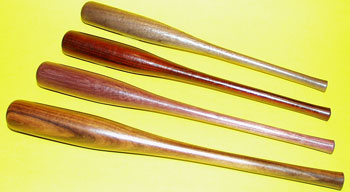 From top to bottom:
Peruvian Walnut, Burma Padauk, Purpleheart, Rosewood

Read about the advantages of a custom striker
The Turkey Pro Sez: "Friction calls produce the best sounds when matched with a custom striker. Generally, the quality of the striker will determine how good the call sounds. The highest quality glass call, for example, matched with an average striker will sound passable. But, put the proper custom striker with it and it will sound superb. Fred Cox Jr., owner of Grand Slam Turkey Calls, is one of the best custom Call Makers in the world. His specialty is custom strikers. That's all he makes. His "Baseball Bat" shaped strikers with a flared tip are legendary. When I first tried one, I couldn't believe how it improved the quality of sound from all my glass, slate and aluminum friction calls. Fred's philosophy is: a custom striker should be pleasing to the eye, but more importantly, pleasing to the ears of the boss gobbler. I couldn't agree more.
Grand Slam Custom
Strikers
by Grand Slam Turkey Calls

World's Finest Custom Strikers
Choose from:
Rosewood, Purpleheart,
Burma Padauk and Peruvian Walnut

Exceptionally attractive, high-quality strikers with superb workmanship.

Will improve the sound of any glass, slate or aluminum call.

The Ultimate in versatility.

Flair tip and "Baseball Bat" shape makes them perfectly balanced for maximum contact area on call.
All the Custom Strikers needed to produce all the sounds of wild turkeys on any glass, slate, or aluminum call from nice, soft clucks and purrs on slate to ear-piercing yelps on aluminum or glass.