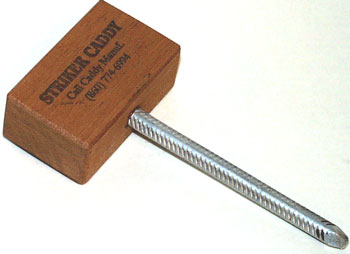 The Turkey Pro Sez: "Every turkey hunter who uses a friction call needs a Striker Caddy! It is a foolproof device that anchors in the ground with a small stake. It securely holds up to three of your favorite strikers for quick and easy access. This is a much needed device for the growing number of turkey hunters who choose to use friction calls."

Striker Caddy
by Gordon Brennan

Ground-Mounted Striker Holder
Three holes to hold strikers. Attached ground stake.

Includes attached abrasive sanding surface.
Price: $9.99
ORDER