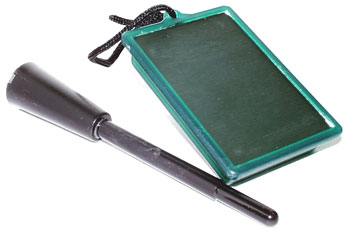 Listen to 24 seconds of yelps, clucks & purrs and cutts
Listen to 9 seconds of yelps
Listen to 7 seconds of clucks & purrs
Listen to8 seconds of cutts

Read about the advantages of an aluminum call
The Turkey Pro Sez: " The Alumimite aluminum call by Primos Hunting Calls is New and is very versatile in all weather conditions. It will often drag a gobble out of a stubborn gobbler when nothing else will because of the high frequency tone of the call. And, it will make the low volume clucks, purrs, and yelps you need to entice him in those last few yards too. I strongly suggest the purchase of a custom striker to get the most from this compact call".
Alumimite Call
by Primos Hunting Calls

Compact, High-Frequency
Aluminum Call
Great for high frequency, loud, ear-piercing yelps and cutts

Equally good for soft yelps, purrs, and clucks for close-in work

Acrylic striker included for all-weather use

Dull matte finish will not reflect in sun

Dimensions: 3 3/4" long, 2 3/4" wide, 3/4" high

Includes lanyard and scrub pad
Pro's Choice recommended Custom Striker for this call

Lifetime Service Guarantee
Discontinued Product ...
For Informational
Purpose Only