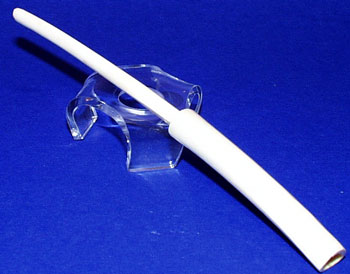 Listen to 11 seconds of clucks
Listen to 10 seconds of yelps

Price: $19.99
ORDER
The Turkey Pro Sez: "For those who like a bit of nostalgia with their turkey hunting, try a wingbone call. This carefully crafted two-piece call, by veteran call maker Jim Young, is made from wild turkey wing bones which produce the most authentic hen sounds possible. For more volume and deeper toned hen yelps and great gobbler yelps, try a Three-Piece Fancy Call. Hunters of the last century and native American Indians used wingbone calls almost exclusively to lure turkeys. This model is a historical turkey call design. Wingbone calls can be a bit tricky to learn to use, but the secret is to "kiss" into the small end of the call and make a sound chamber with both hands on the large end. Wingbones are a bit delicate, so be careful how you handle them. You'll feel like one of your ancestor turkey hunters with this call. And the best part is that few hunters use wingbones, so gobblers in your area are sure to respond to the sweet hen sounds produced by this call."

Jim Young Two-Piece
Wingbone
Turkey Call
by Jim Young's Wingbone
Turkey Calls

A Traditional Two Piece
Wingbone Call