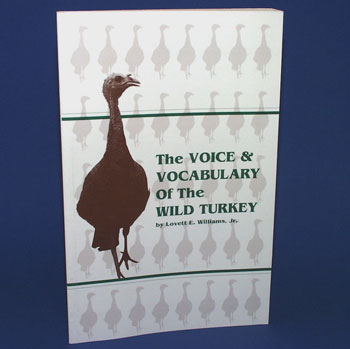 NOT AVAILABLE IN MOST STORES
Read about how to learn all you can about turkey hunting
The Turkey Pro Sez: "Dr. Lovett Williams, a wild turkey biologist, is widely recognized as the country's leading expert on the voice of the wild turkey. He shares all that he has learned over several decades of research in this book. His extensive knowledge of the voice and communication of wild turkeys through audio recordings and field observations is well documented throughout the book.
Dr. Williams provides the turkey hunter with an intimate knowledge of the turkey's communication patterns and how to use them in hunting. If you want a Ph.D. in understanding the turkey's vocabulary, and you should if you hope to become an expert, this book shows you the way. From this book, I learned about the 28 different calls of turkeys and which to use in hunting."

The Voice & Vocabulary
Of The Wild Turkey
by Dr. Lovett E. Williams, Jr.

Dr. Lovett E. Williams, Jr.


A Guide to Understanding the Turkey's Language
90 pages--soft cover
Fully illustrated with photos

Based on Dr. Williams' extensive
field work and audio recordings over several decades

The only reference ever written
exclusively on the subject of the turkey's voice from the time of hatching through adulthood, both male and female, all year around

Learn the 28 Different Calls of the wild turkey and when and how to use them when hunting

Learn to call with your natural voice
Must Reading for serious hunters!
SOLD OUT