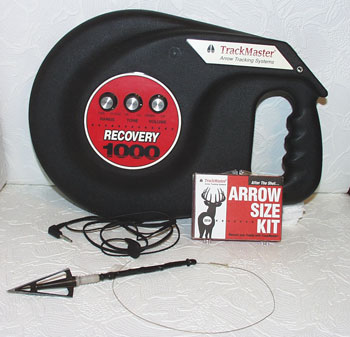 Read about the necessity of using a tracking unit
Read about recovering your bird

The Turkey Pro Sez: "If your budget can handle it, a TrackMaster System will put a smile on your face when it comes to bow hunting, especially for turkeys! It's the Ultimate in tracking and recovery technology. I had one as soon as I saw it. Why you ask? Because I had lost a few gobblers previously due to string breakage with my string tracking unit. And it makes me ill to lose a bird.
Poor hits on turkeys are bound to happen even to the very best archer because the vital area on a turkey is so small. Wounded birds are part of the game when you bow hunt turkeys. Further, a wounded turkey usually does not leave a blood trail because any blood loss is quickly absorbed by its feathers. A turkey's feathers are like a giant sponge. And to further complicate things, a wounded turkey is likely to fly away if you didn't break one of its wings with the arrow. And, finally, a wounded bird will hide so well you're not likely to find it. So, what do we have? A humiliating, frustrating problem, that's what.
Here's how a TrackMaster System solves the problem. You attach a plastic insert adaptor (provided) to the transmitter, and carefully slide the antenna and transmitter into a hollow aluminum arrow shaft and push the adaptor into the arrow shaft by pressing it on a hard surface. Next, simply screw your favorite broadhead into the adaptor. You're ready to go.
When the arrow is shot and hits something solid, the transmitter is activated. You simply place the earphone into the jack on the receiver and listen for the signal. You slowly turn in a circle while holding the unit next to your body. You will hear the sound getting more rapid and intense when you are pointing at the transmitter (arrow). Just walk 30 or 40 yards towards the strongest signal. Stop and do it all over again. Keep doing this until you find your arrow with a gobbler attached!
Remember to turn the transmitter off by slowly rotating it against the magnet which is imbedded in the receiver's case.
Some may think that the weight of the transmitter (65 grains) will affect the trajectory of the arrow. It will, but not at turkey-killing ranges of less than 25 yards. I've never had a problem at ranges up to 30 yards. Beyond that range, you shouldn't be shooting anyway. But, if you plan to, reset your bow sights accordingly. It's always a good idea to use the practice insert weights that come with the TrackMaster System to determine how trajectory is affected with your bow and arrows.
For added backup, I also use a Model 2500/3000 Professional String Tracking Unit, because sometimes an arrow can pass completely through a turkey even though you are using the penetration limiter device that comes with a For added backup, I also use a Game Tracker Model 2500 Professional String Tracking Unit, because sometimes an arrow can pass completely through a turkey even though you are using the penetration limiter device that comes with a TrackMaster System. And, finally, it's always a good idea to have a spare Transmitter ready to go in a second arrow--I've bagged many gobblers with a second arrow after missing with the first. Oops...there goes another $74.99! In fact, each of your hunting buddies who hunt with you should have at least one transmitter also. A group of hunting buddies can share a single Recovery 1000 Receiver, however.
Thanks to the TrackMaster System, I have recovered many turkeys that would have been lost otherwise. I even recovered an arrow, which a gobbler flew away with for several hundred yards. The tom had only been nicked and he landed in a tree. Somehow when he flew away, he left my arrow hanging on a limb about 50 feet in the air! Had to cut the tree down to retrieve my arrow and transmitter! Thankfully it was a small tree.

TrackMaster Electronic Arrow Tracking System
by TrackMaster
Discontinued by
Manufacturer

For Informational
Purpose Only
TrackMaster Electronic
Arrow Tracking System
includes:
One Recovery 1000 Receiver - a hand-held radio frequency receiver with hand grip hole, as shown at the left.

~ Receiver dimensions:
9" high X 12" long X 2" wide

~ Receiver operates on a standard 9-volt battery, has a meter for visual signal and a directional loop antenna

~ How it works: Signals are picked up by the Recovery 1000 Receiver and directionalized by the hunter as they are heard through the Earphone, leading you to the arrow/game

~ Range: up to 1,000 yards

One Transmitter - a long black, slender rod-like object, attached to broadhead with wire antenna

~ Transmitters are miniature radio frequency transmitters that fit inside a hollow aluminum arrow and only send out signals when the arrow is shot. Additional transmitter available.

~ Transmitter dimensions: 1/4" by 3 3/4" long

~ Transmitter weight: 65 Grains

~ Transmitter life: 80 hours transmission time

~ Transmitters fit aluminum arrows with an inside diameter greater than or equal to a 2018 arrow

One Arrow Size Kit - available for most common arrow sizes.

Arrow Size Kit includes components which are used to adapt the transmitter to your aluminum arrow shaft:
~ 2 press-to-fit plastic insert
adaptors
~ 3 brass practice weights
~ 1 penetration limiter
~ 6 rubber "O" rings


One Earphone with jack



Discontinued by
Manufacturer

For Informational
Purpose Only