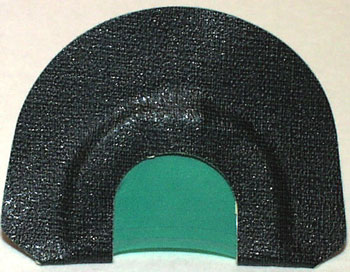 Listen to 19 seconds of kee kees and kee kee runs
Listen to 16 seconds of yelps
Listen to 13 seconds of clucks
Listen to 13 seconds of purrs

Read about the advantages of mouth calls
Learn to use a mouth call
The Turkey Pro Sez: "Quaker Boy has done it again! Their NEW Year 2000 Screamin' Green Premium Mouth Calls are made from special QB 2000 Premium Green Latex and have a refreshing ease-of-use and a crisp, raspy tone. Designed for longer life and more crisp sounding turkey talk, these premium mouth calls will help you bag your Millennium Gobbler for sure.
The Screamin' Green Pro Triple is one of my favorites for making a wide range of calls from high-pitched kee kees and kee kee runs to slightly raspy yelps. A good all-around call. You'll get a lot of life and good sounds out of this call with proper care. Quaker Boy's commitment to quality has made them the Hunter's First Choice into the next millennium."
Screamin' Green
Pro Triple Mouth Call
by Quaker Boy

Extra Durable, Long Lasting, Premium Latex-Reed Call

Discontinued By
Manufacturer
For Information Purpose Only
QB Premium Green Latex, designed for crisp, raspy sounds and long life.

Three thin reeds precisely stretched to produce the full range of yelps, cutts, cackles and purrs of the wild turkey.

Light to moderate air pressure and tongue control required to produce the best sounds.

Makes medium-toned yelps, cackles, clucks, and cutts at all volume levels.

Excellent Call for those who prefer medium to high-pitched sounds, including high-pitched yelps with a bit of rasp and kee kees.
Made from safe, premium quality materials.

Protect your mouth calls, improve their tone, and produce perfect sounds instantly with a Mouth Call Saver.
Discontinued By
Manufacturer
For Information Purpose Only